Wind Energy

My own personal wind generator project (in the works).
This is a vertical axis wind turbine. This design eliminates the need for a slip ring which has a relatively high rate of failure. The generator head is stationary instead of the rotating gen head like horizontal designs.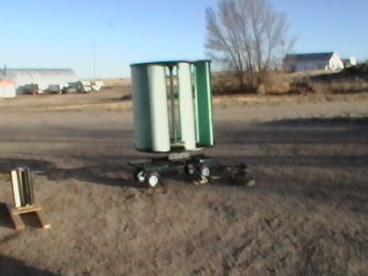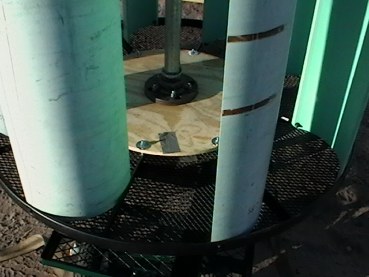 First wind test Closeup on blades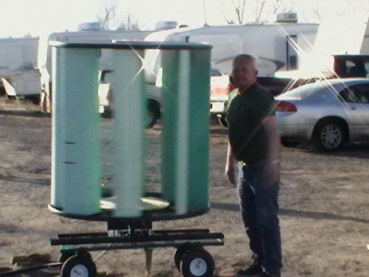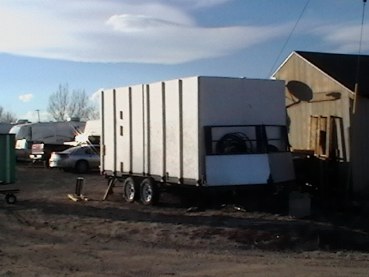 4ft diameter and 4ft hight Generator turbine to be mounted on top of this trailer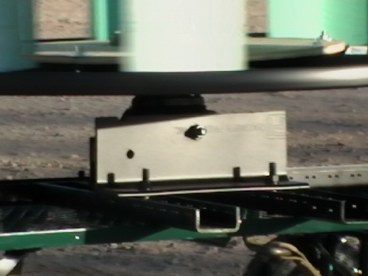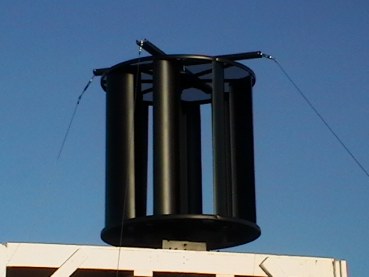 Lower bearing assy and mounting arms Painted and mounted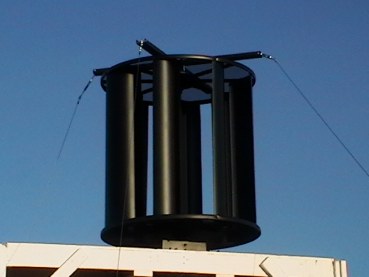 TURBINE INSTALLED (SHORT VIDEO)
PAGE UPDATED 8/2009
The above pictures and short video have been more completed below and the larger video link below shows the Vertical access turbine in action along with electronics and 32 batteries.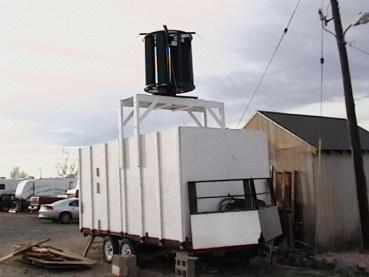 Image showing Turbine mounted but gen not connected underneath yet.
UPDATED 6/2010
THE SILVER MODIFIED SIGN WAVE INVERTER SHOWN HERE IS NOT INCLUDED WITH THE SYSTEM AS IT IS A 24 VOLT INVERTER AND THE SYSTEM IS NOW WIRED AT 12 VOLTS BECAUSE THERE IS FAR BETTER PERFORMANCE AT THE 12 V DESIGN OVER THE 24 V DESIGN.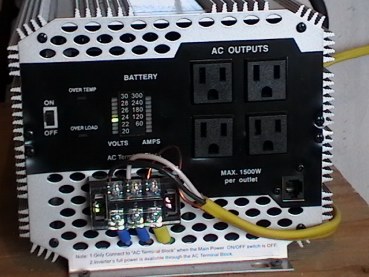 EARLY STAGE Inverter and meters 5000 watt inverter wired for full output (NO LONGER IN USE)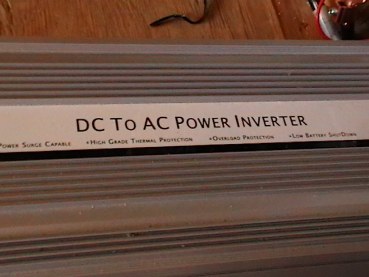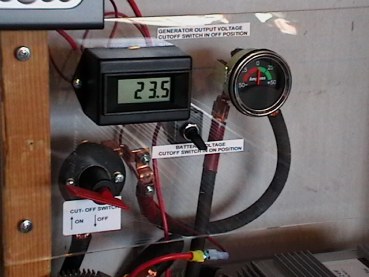 5000 watt Inverter Ampmeter, Voltmeter, Cutoff switch and Gen volts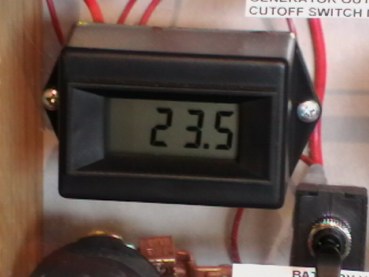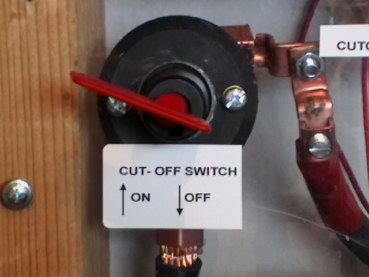 Voltmeter Cutoff switch required for gen direct volt readings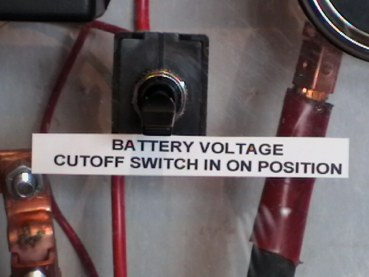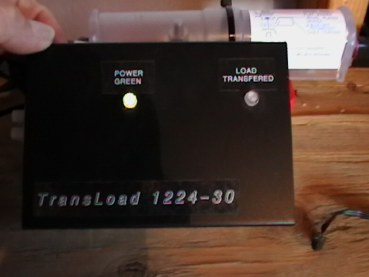 Batt volts switch Charge Controller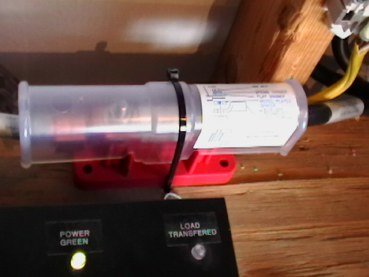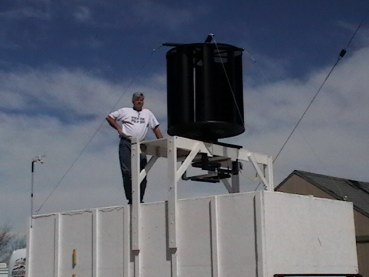 250 amp inline fuse Completed turbine with gen in place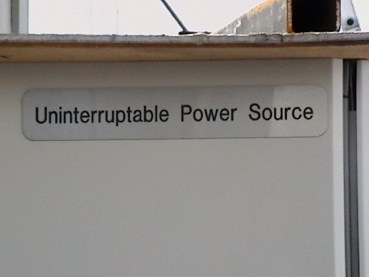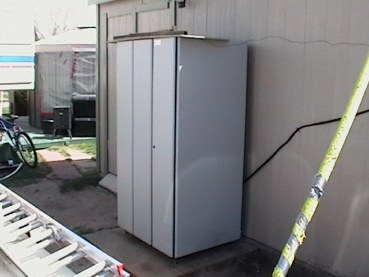 Battery Cabinet Battery Cabinet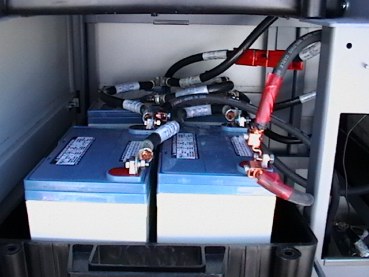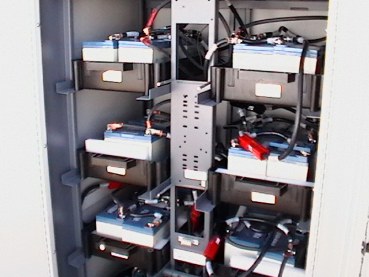 Batteries Batteries in cabinet
CURRENT SETUP AS OF 6/2010
THIS IS THE SETUP FOR SALE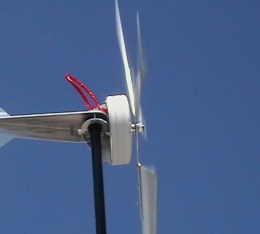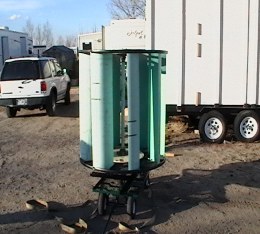 Horizontal wind generator Vertical access wind turbine ready for install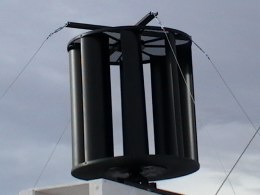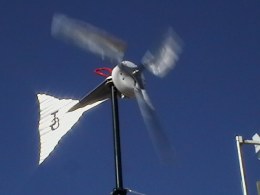 Vertical access wind turbine installed Horizantal wind gen in motion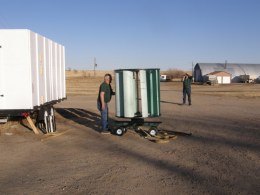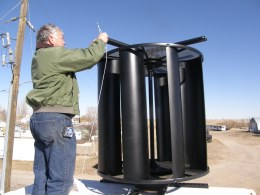 Testing & prep for install Final connections wind turbine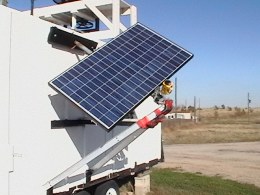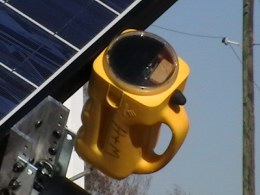 Solar panel with auto tracker system Solar tracking system mounted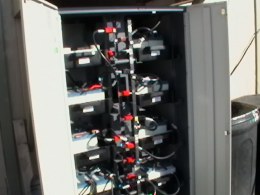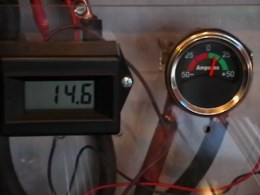 Power storage battery pack Output amperage meters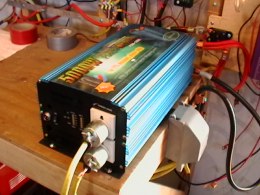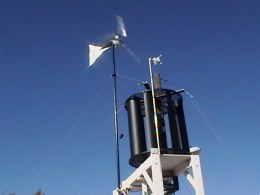 This Inverter is included but not working Wind system in action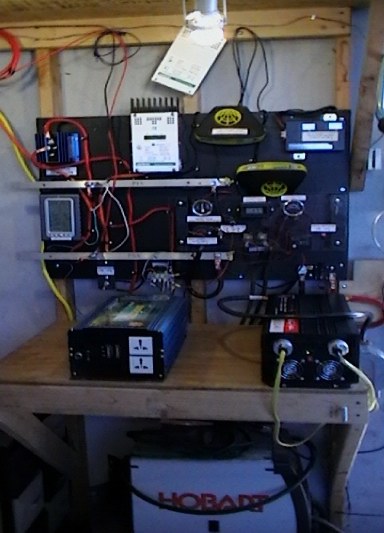 OVERALL WIRING SETUP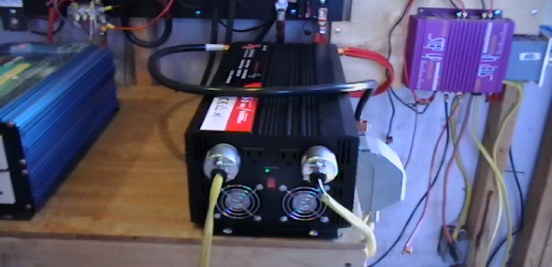 5000 WATT PURE SIGN WAVE INVERTER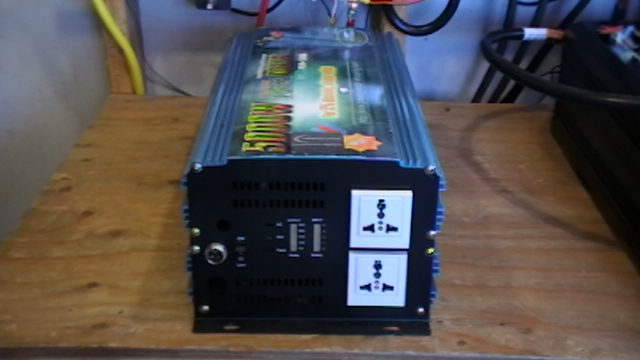 SECOND 5000 WATT PURE SIGN WAVE INVERTER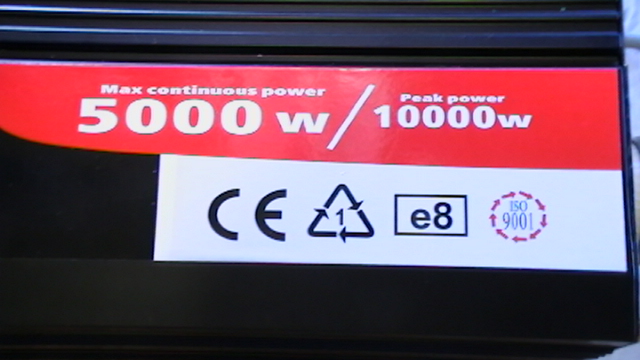 TOP LABEL INVERTER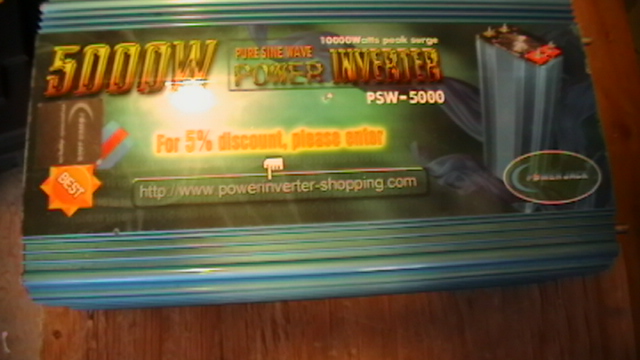 TOP LABEL OF OLDER INVERTER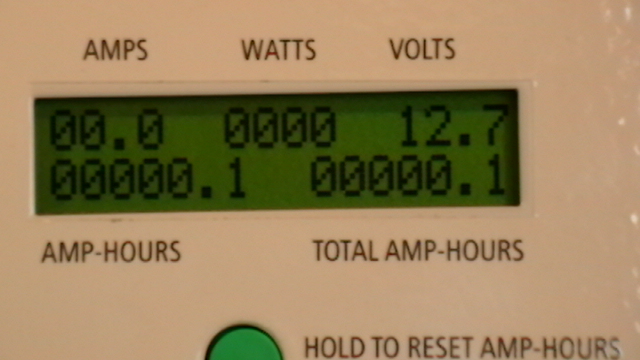 CHARGE CONTROLLER DIGITAL READOUT IN DIVERSION CONTROL MODE.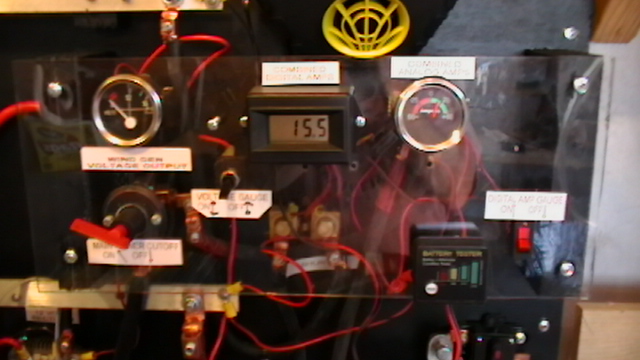 SOME OF THE GAUGES, 15.5 AMPS SHOWING ON THE DIGITAL METER (SOLAR POWER ONLY)
AND ZERO ON THE VOLT METER TO LEFT. (NO WIND AT TIME OF PICTURE)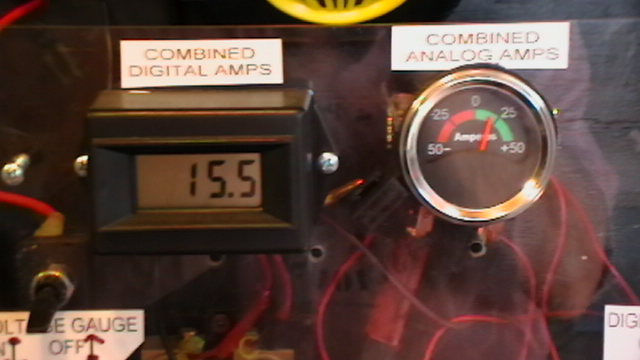 CLOSEUP OF DIGITAL AND ANALOG METERS READING THE SAME.
MAIN POWER CUTOFF AND GAUGE SHUT OFF SWITCH.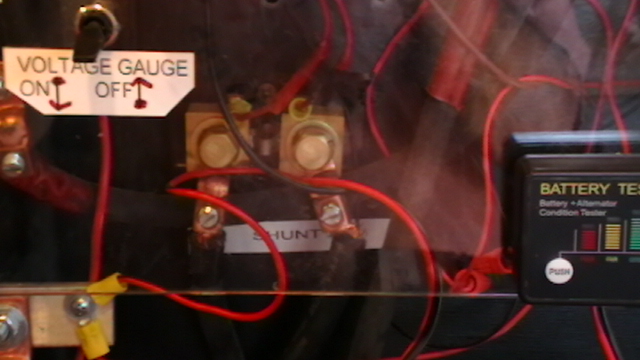 SHUNT FOR DIGITAL AMP METER.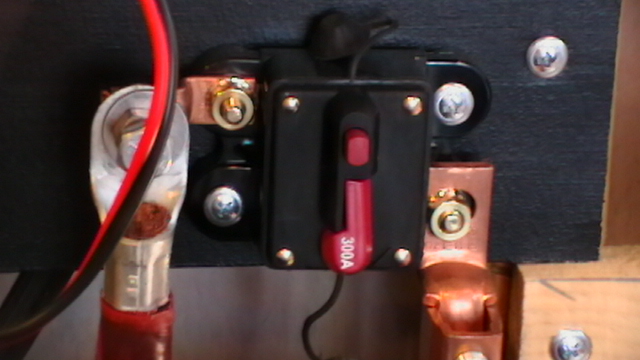 .
300 AMP MAIN CUTOFF FOR THE INVERTER POWER (PLUS SIDE).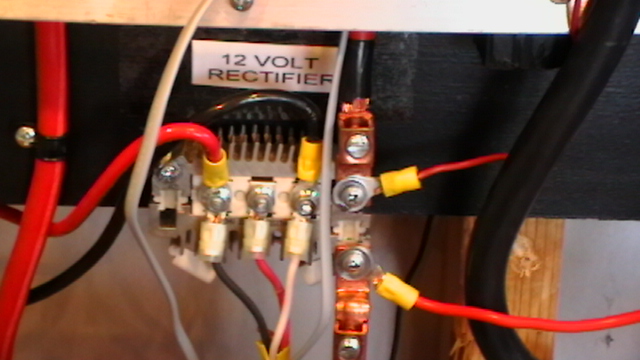 12 V RECTIFIER FOR WIND GENERATOR INCOMING POWER 3 PHASE.
WEATHER STATION SHOWING 7.3 MPH WIND SPEED AT TIME OF PICTURE.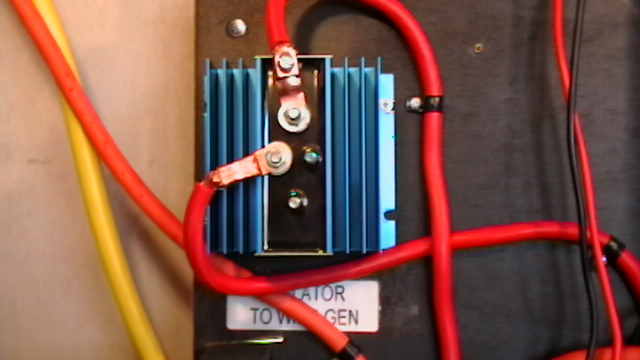 SAFETY ISOLATOR SEPERATING THE WIND GEN AND SOLAR INCOMING POWER.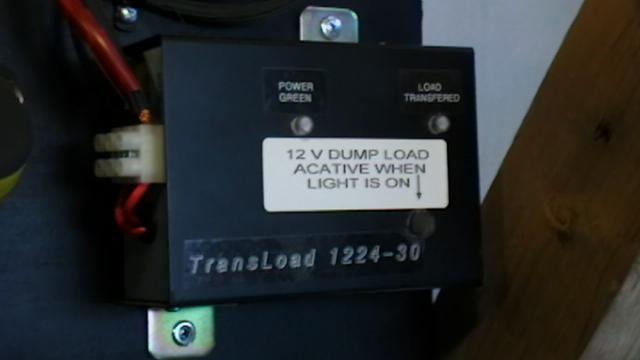 DUMPLOAD DIVERTER #2.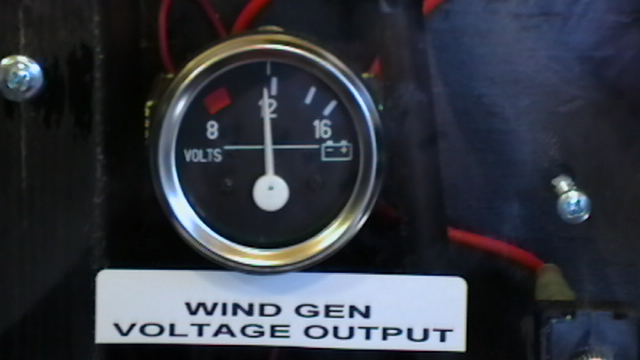 VOLTS INCOMING FROM WIND GEN AT 7 MPH WINDS (JUST UNDER 12 VOLTS)
STILL GENERATING APROX 3 AMPS. WHEN IT REACHES 12 VOLTS THE AMPS WILL
JUMP TO A MINIMUM OF 8 AMPS AND CLIMB FROM THEIR RAPIDLY.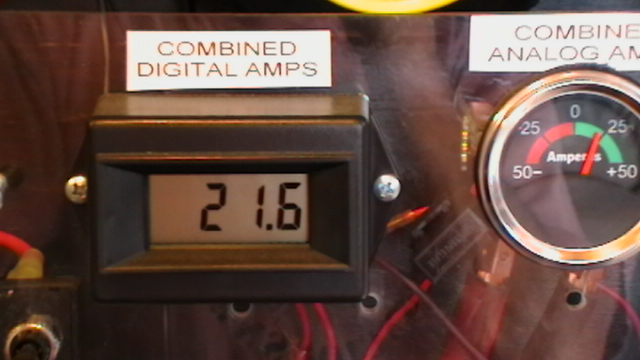 COMBINED AMPS AT APPROX 10 MPH WINDS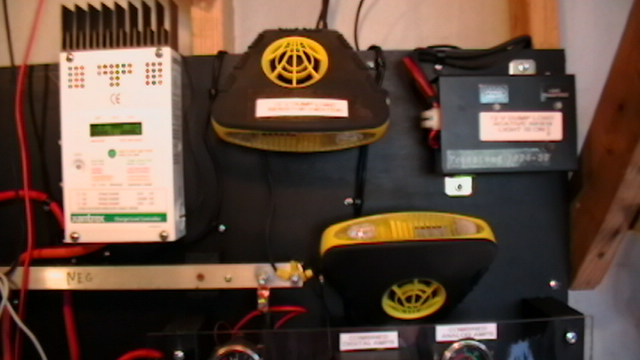 2 DUMPLOAD CONTROLLERS AND 2 DUMP LOAD HEATERS (RESISTORS)
XANTREX AND GENERIC DIVERSION LOAD CONTROLLERS.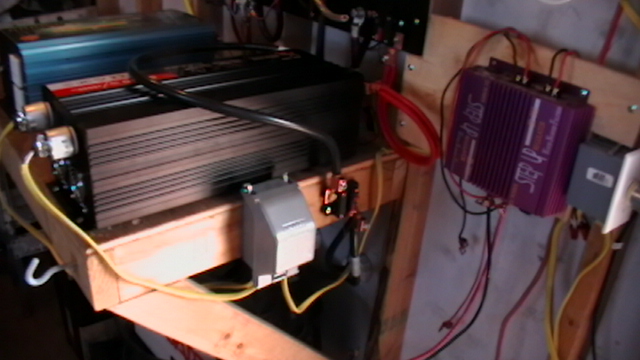 INVERTER CONNECTED TO BUILDING POWER SUPPLY IN GREY BOX.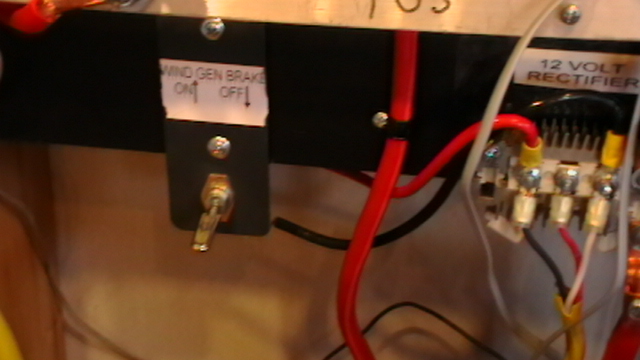 WIND GENERATOR BRAKE SWITCH.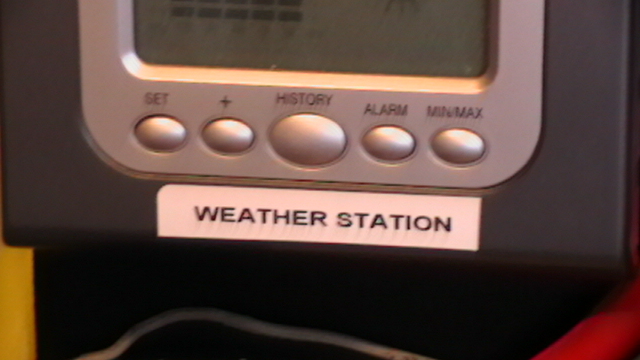 WIRELESS WEATHER STATION. SHOWS WIND SPEED, TEMP BOTH ABBIENT AND WIND
CHILL AS WELL AT RAIN FALL AND IF THE WEATHER PRESSURE IS GOING TO RISE OR FALL.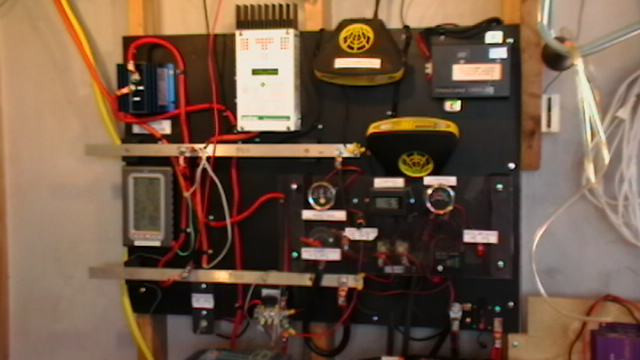 INDOOR ELECTRONICS PANEL OVERALL.